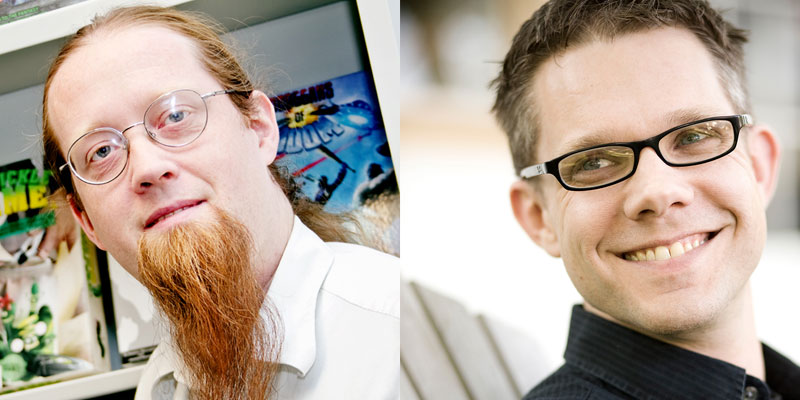 Earlier this year, a product called The White Box landed on Kickstarter. Pitched as a game design workshop in a box, the tool aims to help designers create, plan and prototype their tabletop game. You can play around with a myriad of generic components such as wooden cubes, plastic discs, six-sided dices and punchboard sheets and it also includes a 128-page book containing essays on issues including how to make games, whether to self publish and what to ask playtesters.
The White Box is the brainchild of Jeremy Holcomb (above, left), professor of game design at the DigiPen Institute of Technology. He earned his credits with The Duke, Timestreams and plenty of other titles and the majority of The White Box Essays are his thoughts, ideas and years of experience put to paper. Jeff Tidball (above, right), co-founder of Gameplaywright and chief operating officer of Atlas Games, took charge of the production and publication of The White Box having convinced Holcomb to bring his idea to Kickstarter back in April. And it was a move that paid off.
From an initial goal of $10,000, the Kickstarter campaign for The White Box made $199,088 thanks to 2,950 backers and soon caught the eye of Cartamundi, a game specialist boasting 250 years of experience in innovation and manufacturing. The firm leapt at the chance to support The White Box as part of its wider mission to help as many great ideas get to market as possible, joining the project to manufacture and handle European fulfilment for The White Box. "We're proud to play a part in giving game designers and enthusiasts as well as young crafters the chance to create their own game," said Steven Schoenmaekers, VP Games Manufacturing Services at Cartamundi. "We want to be a great manufacturing partner for the creation of card and board games."
With The White Box set to land in hands of backers in August, and Cartamundi on board to help expand the reach of the tool, we caught up with Jeremy and Jeff to talk about their own routes into game design, and why the success of The White Box is indicative of a society rediscovering creative pursuits.
How did you both first get into game design and do you think access to a kit like The White Box would've helped you get to where you are now?
Jeremy: I would have loved to have something like The White Box. I started making games as a kid, but my first project of real merit was a game I co-designed, and that we self-published locally. We did almost everything wrong – used a local printer who didn't know games (and thus printed with ink that could not stand up to actual use), wrote terrible rules, printed more copies than we could reasonably sell…and on and on. Even the basics of how to playtest was stuff I had to learn (and screw up, and be bad at) myself. I wish I had needed to reinvent fewer wheels.
Jeff: I played Dungeons & Dragons for the first time when I was 11 years old, and I loved it so much that I had decided within a year that I wanted to be a professional game designer as a career. I read everything I could get my hands on about game design and publishing, which – at the time – was very little. I absolutely think that something like The White Box would have been a great help to that younger version of myself.
How did this collaboration between the both of you come about?
Jeremy: The idea for The White Box had been running around in my head for quite a while. I built a draft with enough essays to show what I wanted and put it with my game prototypes. When I go to a show, I like to do publisher speed dating or pitches and have three to six games to show off. The White Box draft got added to that pile, and I showed it off for a few years before Jeff saw it at the GAMA trade show.
Jeff: Jeremy had been working on The White Box for some time, and was thinking about publishing it himself, when he and I met up at a designer/publisher event at the GAMA Trade Show in 2015. I was mostly looking for new games designs that Atlas Games could publish at that event, but I saw The White Box among Jeremy's other designs, and thought that it was a perfect match with Gameplaywright's catalogue and mission of publishing non-fiction about stories, games and the work of creating both of those things.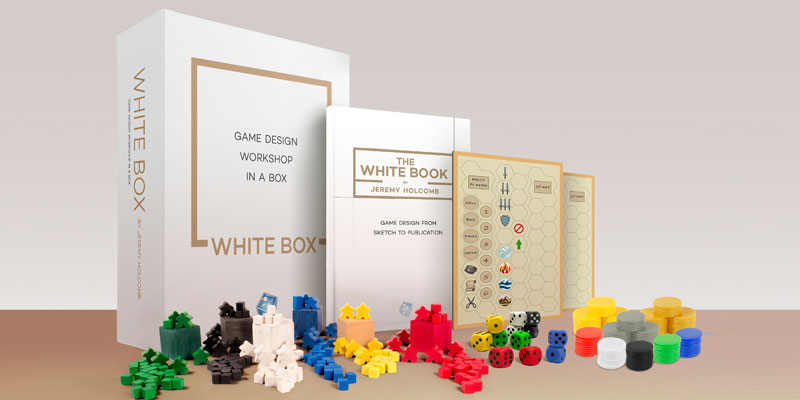 Who is The White Box for and why should any budding game designers reading snap one up?
Jeremy: There are a number of audiences for the essays – the idea is that lots of different types of designers get value out of the white book, and people can "choose your own adventure" the ones that apply to them. If you are just starting out, the essays on how to playtest and design concepts help you get a better game faster. If you have a more polished game, the essays on how to pitch can help you get to publishers, or the essays on how to self-publish can save you from some pretty big potholes.
Jeff: The White Box is for anyone with even a passing interest in designing tabletop board and card games. One of the reasons we worked so hard to bring the price down, over iterations of planning, is that we wanted it to be a no-brainer of a purchase, so even people who are on the fence about their interest could pick it up and have the information in hand. We think that what's in the essays can help people decide how, and even whether, game design is something they want to do, or try doing.
Why did you opt to use Kickstarter to launch The White Box?
Jeremy: That was ultimately Jeff's call, but the core idea is to let the market look at this new idea and see how much demand there is. Turns out there is quite a lot! Kickstarter, along with our relationship with Atlas, helps us get this game to backers and start the long tail of getting it into retail game stores.
Jeff: Gameplaywright is a very small publisher, and our existing catalogue consists entirely of books, which are distributed digitally or printed on demand. It's a very, very low capital business. The White Box, with all of its physical components, simply couldn't be produced that way. Kickstarter is a great method of raising money. But past that practical consideration (and this may seem ridiculous in retrospect, given how successful the campaign was), it was not at all clear that very many people were interested in something like The White Box. Nothing like it has ever been published before, so Kickstarter was also able to provide validation to the idea that this was a product with a real audience.
The campaign smashed its goal. Did you expect it to be such a success and what do you think its success says about the industry's appetite for fresh design talent?
Jeremy: I did create the core concept, so of course I'm egotistical enough to have predicted smashing success. I think all creative artists think this, I'm just lucky enough to have been right. At the core, our industry thrives on a constant influx of new designs. People talk about the 'golden age' of games, some saying it is over, or current, or just starting. Regardless, I think there is great potential in selling picks and shovels.
Jeff: The White Box's Kickstarter campaign made three times my own private estimate of the very best it could do. I thought there was a 15 to 20 per cent chance that the campaign would fail to reach its funding goal. Obviously, I was wildly wrong (being wildly wrong is, luckily, something you get used to as a publisher of games).
I'm not sure the campaign's success says as much about the industry's appetite for new games and fresh talent as it does about people's interest in designing games. I think we live in a time when society as a whole is rediscovering creative pursuits. There's been an explosion, in the last 20 years, in parallel educational offerings in things like writing and screenwriting. Conferences, books, you name it. People are interested in learning more about how they can go about creating things they love. I think that's perhaps the most key trend explaining The White Box's success.
Cartamundi has positioned itself as a firm dedicated to helping designers get their ideas for games off the ground. How is Cartamundi involved with The White Box and what does it for you guys to have the support of the firm?
Jeremy: I'm deeply honoured to be working with such a well-known group of dedicated gamers. The core benefit from my perspective is reach. I had an idea. Thanks to Gameplaywrite and Atlas, and thanks to our backers, I have a product. With Cartamundi on board, I have the reach to put that product into many more hands than would have been otherwise possible.
Jeff: Cartamundi will be producing the product itself, as well as helping us fulfil for our European campaign backers, and continuing to promote The White Box at conventions like Spiel in Essen. I'm so very pleased to be working with Cartamundi on The White Box. My own relationship with Cartamundi goes back 20 years, to when I first worked at Atlas Games, and Cartamundi was the producer of On the Edge, one of the very first collectible card games, so this is a wonderful opportunity to work again with a company I know well, and who I know has high standards for professional conduct and production.
Looking ahead, do have expansion plans for The White Box planned or is it a one off?
Jeremy: I do expect the White Box to be a long term product, and I'm happy to add to the line based on design. More tools for role-playing game design, tools for using games in classrooms, ARGs, escape rooms, essay packs for game types (Legacy games, deckbuilders, collectable games). If enough people want to make it, I want to help them.
Jeff: Very early on, we talked about the possibility of refreshing The White Box periodically – perhaps as often as annually – with new and updated essays, an ever-shifting array of components, and so forth. Right now we're concentrating on providing what we promised on this first campaign, though, and don't want to get too far ahead of ourselves.
Personally, I've done workshops at conventions like Origins and Gen Con, for very small, focused groups of no more than a dozen. I've thought about doing more events like that for game designers, perhaps untethered from a larger host convention, perhaps spreading that knowledge more widely by capturing those presentations on video. I've shied away from doing very much planning on such an idea out of concern that there's not sufficient demand, but perhaps The White Box has already shown that my estimates about how much demand there is for talk and education about game design are far too pessimistic.
What do make of the current state of creativity in the games space at the moment?
Jeremy: What a big question! I think the nature of our industry is there is always a fire hose of new content. Most games, like most creative content, are good. They get some play and go away, replaced by the next thing. However, if you throw enough things at the wall you sometimes get things that truly reshape our industry. You saw it with Magic: The Gathering, with Dominion, with Risk Legacy. I'm excited to see what the next game changer will be.
Jeff: It's amazing! There are so many people designing games and publishing them that there's literally never, ever been a better time to be a gamer and a fan of games. I actually wrote a lengthy blog post for a retail colleague's blog about this exact topic – whether the current "deluge of board games" is a good thing, or a bad thing, for the business of publishing and sell games. Obviously, I think it's a good thing.
Save
Save
Save
Save