Whiz Kid Games founder Heather Watherston on educational games – and launching in a pandemic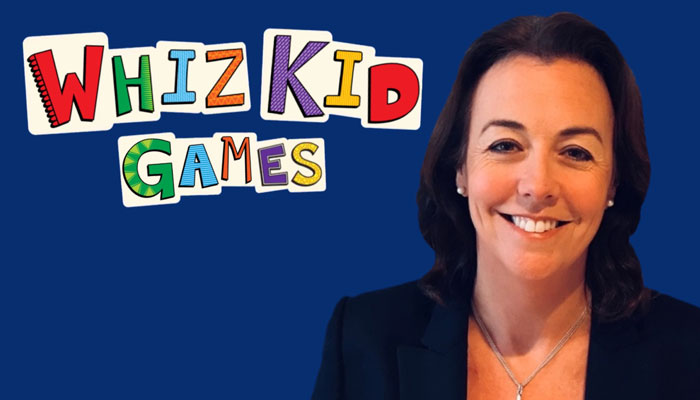 Thanks for making time Heather. Where do we start?! You were a co-owner and managing director of The Lagoon Group… How did you get into puzzles and games?
Well, that's a good question – one I often ask myself! In the mid 90s, I joined Simon Meluish – who set up Lagoon – after I left the city. He persuaded me to come in and set up a books division, Lagoon Books. We had great fun putting together 12 puzzle books in the first year we worked together.
Puzzle books? Like word-puzzle books?
Oh, no; lots of murder mysteries and such like – and I remember we got a floor spinner of books into Debenhams for Christmas… Those were the days! Then Simon wanted to take a sabbatical, and I rather fancied his job, so he went travelling, I became MD… And the rest, as they say, is history.
You're now the founder of Whiz Kid Games…
Yes, I left Lagoon at the beginning of 2020, when Asmodee – who bought the business in 2019 – were selling it to University Games. It was during lockdown, and I had lots of time to think about what I wanted to do and where I thought there was a gap in the marketplace.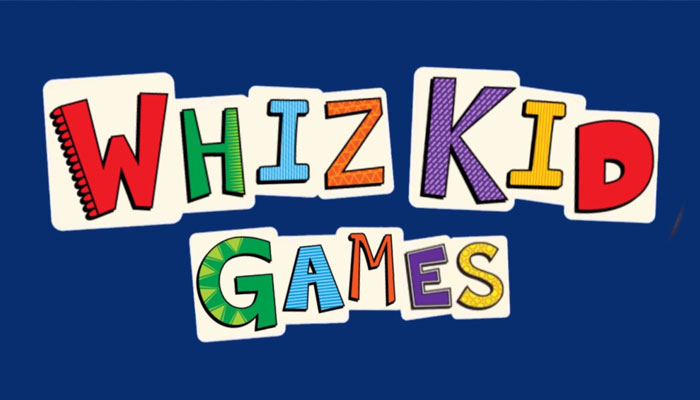 What's the idea there; what's Whiz Kid Games all about?
The idea behind the business is to make fun educational games for children that support Key Stage 1 and 2. As well as being entertaining and educational, with really excellent content, it was important to me that all the games be responsibly made with sustainable and recyclable materials. So, my business model was to create and manufacture the games and find distributors to market and sell the games around the world.
For those that aren't familiar with your catalogue, tell us about a couple of products…
The first range is called Go Genius. It's a range of board games with titles like Maths, English, The World, History, Science and Football. Players travel round the board answering multiple-choice questions, trying to avoid spaces that tell you to miss a go, move backwards or do a forfeit! The aim is to win the points required to earn a genius stamp, which is included in the game. You can put the stamp in your passport – also included – so that children can personalise it. Then the idea is that the children will move on to another Go Genius title and slowly fill up their passport with genius stamps.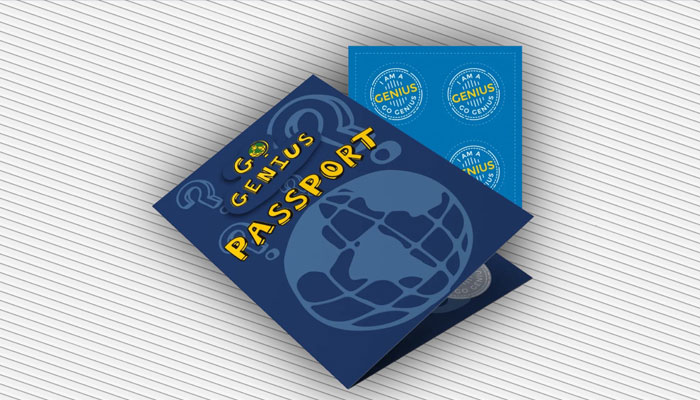 Got it. And given the newness of the games, how are things going?
We entered the board games into the Giftware Association's Gift of the Year competition in 2021 and were lucky enough to win. We then brought out Go Genius: Matching Card Games, and Go Genius: A Giant Jigsaw Puzzle… That we entered into Gift for the Year 2022, and we were shortlisted – which again was great! We got lots of publicity and the lovely people at SMART Toys and Games took on the distribution, so they're selling the games in the UK and Ireland, and we have ISAlbi selling the range out in Australia and New Zealand.
And just to clarify, then: you launched Whiz Kid Games during the pandemic… A lot of people felt there wasn't a worse time to start up! Was that your experience?
I'm definitely in the "out of adversity, comes opportunity" camp, but I think it really helped me that I'd been in the industry for more than 20 years. I mean… I had contacts on the design side, the manufacture side and also on the distributor side. These contacts have been key to our success to date. Business has carried on during the pandemic – in fact, for many it's been a really lucrative time.
What was the biggest challenge?
As a new business, it's been really difficult not being able to attend trade fairs. It was particularly gutting for me to not be able to go to Nuremberg and meet all the potential international distributors I've been talking to about Go Genius. They've seen the presentation, love the products but understandably need to meet me in the flesh before they take the next step and commit to working with Whiz Kid Games.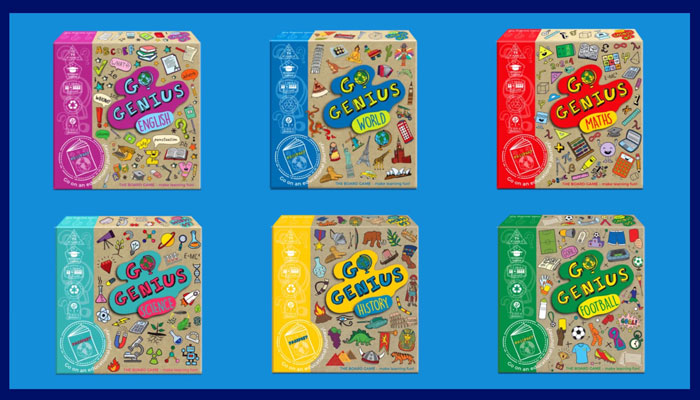 What's your ethos behind the scenes?
Well, I think it's critical to enjoy what you do in order to do it well – so I make sure it's fun work. I surround myself with a team of excellent designers, artworkers, editors and teachers, whom I enjoy working with, and I team up with distributors like SMART who have a similar outlook in life.
In what way?
They understand the need to have educational games that are not only great teaching aids but also great fun to play. They also have fantastic green credentials, and they like the fact that the games are manufactured in Europe, which is very important to me.
How did you come to understand the importance of engaging children in learning?
There are many great quotes about learning… My favourites are Mandella's "I never lose, I only win or learn", and Benjamin Franklin's "Tell me and I forget. Teach me and I remember. Involve me and I learn." But once upon a time, I was also a child, and had a mother who was a teacher and we played word and maths games all the time – I'm not sure I even thought of them as educational but they were certainly fun! Then I had children and just as I'd played games with my mother, I played all sorts of games with them.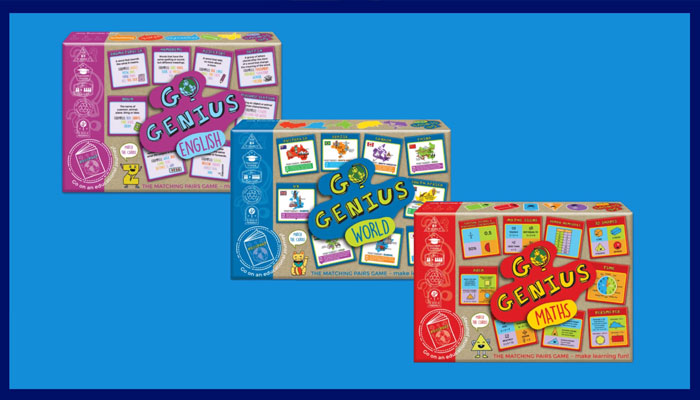 Do any specific games come to mind when you talk about this?
We had a great one we called Double Orange where you had to come up with homonyms and you got extra points if you got one with more than two meanings! We also played games like Fizz Buzz where you count round in a circle and had to say "fizz" on a multiple of five, and "buzz" if the number contained a seven. We changed the rules to bring in other numbers. It was a great way for the kids to learn their times tables. And the winner got sweets rather than a pint, as per the original Fizz Buzz drinking game!
Well, to that point, how different is the educational-games market to the more gift-style games of Lagoon Group?
It is different, there's no doubt, but hopefully Go Genius can bridge the gap selling not just through the schools network, the bricks-and-mortar stores and online retailers specialising in educational lines, but also through independents where parents, grandparents and aunts and uncles will go looking for gifts. Retailers wanting hard-hitting educational lines go for the English and Maths titles, whereas more general buyers opt for Go Genius World and – in particular this year, with the World Cup kicking off in November – Go Genius Football, which is very popular.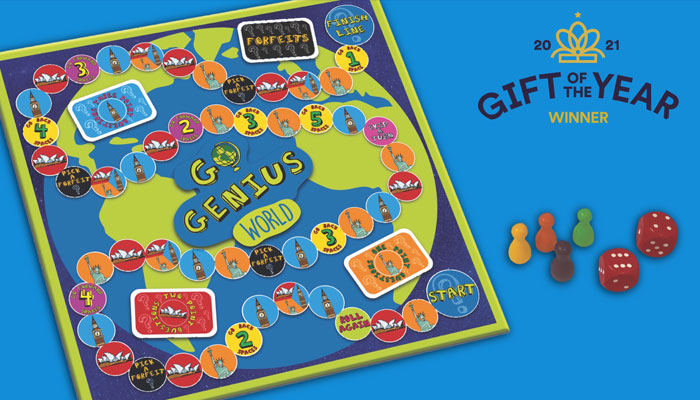 And outside the pandemic, what's the biggest challenge you face currently?
Rising energy costs affecting the price and availability of raw materials is our single biggest challenge. We manufacture for the UK market in Germany… They've been badly affected due to the war in Ukraine, but it's difficult to complain about inflation when there are so many devastating affects from Putin's actions… And perhaps we need to see it as a wake-up call to turn to more renewable sources of energy anyway.
And, as we've seen, Whiz Kid Games wears its green credentials on its sleeve. What else can you tell us about that?
While setting up the new business, I saw a real opportunity, and felt a real responsibility, to go forward using only sustainable raw materials… So all our paper, card and wood is sourced locally, and is FSC-certified as are the factories we use to produce the games. In fact, the German factory uses 100% renewable energy to power its plants. Then all components of our games are 100% recyclable… Hopefully, though, our Go Genius games will be passed down the generations and be reused that way instead!
That would be ideal! Looking back at your own childhood, what toys and games do you feel put you on the path you're on?
My upbringing was fairly nomadic! We moved from third-world country to third-world country every two years, so we never had TV and would have to continually make new friends… So games were a really important part of my childhood. We all loved number games like Rummikub, word games like Boggle and strategy games like Mastermind. We also loved card games and word games we played on scrappy bits of paper!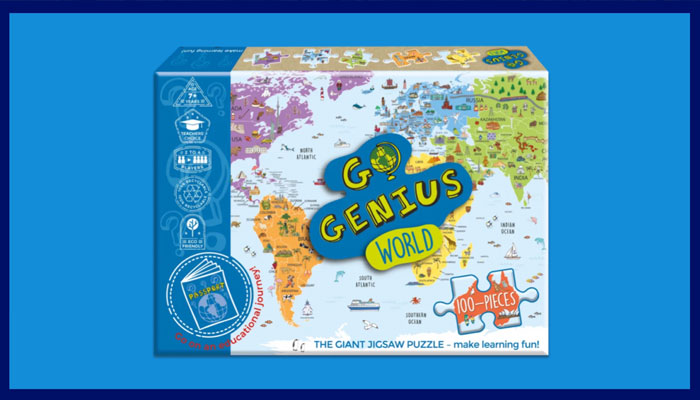 Does that continue to affect the way you see play now?
Certainly! It had a huge effect on me, and hopefully I've passed my love of games onto our children. During lockdown we had a leader board up with all our scores of every game we played – be it archery on the Wii, to Estimation Whist and Scottish Monopoly – the very best edition! Both my daughters are constantly consulted, not just about content but also the game play and look of Go Genius.
Well, this has been fantastically interesting, Heather; thank you so much for your time I'm going to wrap it up with a question that never fails to delight me… What's the most interesting object on your desk?
Well, aside from the stacks of dummies, prototypes and advances, I have lots of photos of family and also pictures that my kids have painted for me. There's a lovely watercolour of a thistle I got for a birthday a few years back. When I setup Whiz Kid Games, my youngest daughter – Tara – made me a lovely set of W, K and G letters decorated with numbers, flags and pictures of people. That now sits proudly on my desk! But probably the most precious thing…
Whoa! You mean that's not it? You're going to trump it?!
Yes… Sorry Tara! The most precious thing is below my desk rather than on it – Harley my black labrador, who loves to join my Zoom meetings!
Terrific! Thank you, Heather.
–
To stay in the loop with the latest news, interviews and features from the world of toy and game design, sign up to our weekly newsletter here