Why Can't We Be Friends?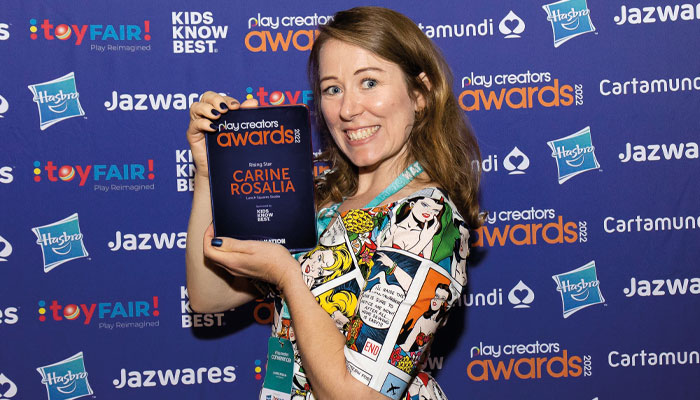 Lunch Box Studio's Carine Rosalia looks at why competition breeds camaraderie in the inventor community.
Only 20 miles away – or should I say 32 km away? – from Twickenham Stadium, the venue of the 2022 Play Creators Conference, two rivals hold hands as they turn a big page of tennis history…

The picture of Federer and Nadal – two giants of their sport – made the rounds on social media, eliciting smiles and tears in its wake. And while I can't claim their accomplishments, I can relate to that picture… A perfect symbol of friendship overcoming the competition.
2022 saw the return of in-person events. A relative newbie to the toy and game industry, I attended my first in-person conference this summer, and am still driving on the energy from the camaraderie of the inventor community of the latest event.
During the day, we take turns pitching to the same inventor relations executives and competing for the same licensing deals. At night, we jam ourselves in a taxi, laughing together over our flubbed pitches with the glimmer of hope that maybe, just maybe, that modest expression of interest could turn into the development of the greatest game there ever was. Friends or competitors? Or both?
I started my inventing journey developing baby products. Launching a product and business can be very lonely, so I felt immediately lucky when I started connecting with people in the same professional stage. I was even luckier that the informal group of baby-product developers that we formed after a convention became a tight group of friends.
Each industry has its own vibe, and licensing concepts is a very different dynamic from bringing a product to market. The toy and game industry is already rich with creative and business talents – and big personalities. It's pretty daunting to enter a room filled with the people who invented the toys that marked your childhood and designed the games that make your family laugh to this day.
And while launching a product can be a competitive endeavour, pitching concepts seems like even more of a race. The opportunities for that coveted royalty cheque are very small in a space that's already filled with skilled and proven creators – so rivalry instincts are sure to kick in at some point.
"Iconic inventors cheer on the success of newcomers. CEOs from top companies pose together for pictures. Those moments all contribute to projecting an encouraging ideal."
I took a chance. As I prepared for my first Virtual Mojo Pitch in 2021, I reached out to inventors scheduled for the same event. "Just saying hi!"… Maybe it's because many of us have been confined inside for what seemed like an eternity, but several responded!
Since then, some have become informal mentors, sharing valuable tips and helping me overcome my impostor syndrome. All became friendly faces – or friendly names, really, since we mostly interacted via chat of some kind. But it made all the difference because it broke down my apprehensions and fears of hostility in an industry that was new to me.
I enrolled in membership organisations and I read the Mojo Nation interviews every week. The legends of toys and games were now becoming familiar profiles as I learned the anecdotes of their debuts and the goals for their next chapters. These featured profiles became so familiar, in fact, that they felt like new connections. I also listened to the podcasts with voices that I could now recognise anywhere. I was active on Linkedin, making new contacts – but mostly getting inspired by supporting comments that cheered respective successes.
And then there were in-person events. The big return! By that time, I'd built my network – and the names of persons in various roles of the industry seemed etched in my mind. So when I first set foot in the literal arena – I love that Mojo's events are held in rugby and soccer stadiums – hugs started rolling.
We sit in the same room learning about new trends and the do's and don'ts of pitching, but it's the fast-paced hustle of pitching that really brings us together. The adrenaline is a big part of pitching events. And it's that same energy that, when channelled properly, can yield great bonds, perhaps even culminating in sharing late night fries after a full day of meetings.
In-person events feed my snack cravings – and my soul – but they also feed my creativity. I'm now working on a couple of new concepts, sparked by moments from the latest industry event. I'm also exploring collaboration projects. Lightning has struck twice for me, since I now have supportive groups in two industries.
But maybe it's not lightning… Maybe it's more of an intentionally fostered collegial environment. Sure, the balance might be fragile because the stakes are high and there really isn't room for everybody, but others have paved the road before us, showing us what it looks like to make friends in a competitive environment.
Iconic inventors cheer on the success of newcomers. CEOs from top companies pose together for pictures. Those moments all contribute to projecting an encouraging ideal. Since the odds of a licensing deal for the next big toy or game hit are stacked against us, why not try to make the best of the journey by sharing smiles – and fries – along the way!
Frankly, even if you have no interest in being friends with your competition, at least keep your attitude in check because the person just walking out of that meeting room might be sitting across the table from you one day. The inventor sitting next to you at the keynote session might become the person you're trying to impress a few years from now… An inventor relations contact may change companies… A game publisher may also license some concepts to other companies… People jump around, so don't burn your bridges.
I know I'm living a bit of a Care Bears moment imbued by the holiday season and the high of meeting new friends. I'm also not immune to disappointment and the occasional "why didn't I think of it?" moment… But, in an industry where the adrenaline is high, the rewards are great, and the falls are all too real, making friends means we can all be winners – no matter the outcome.
–
To stay in the loop with the latest news, interviews and features from the world of toy and game design, sign up to our weekly newsletter here