"Without a nemesis, you can't be a superhero": Designers discuss the implications of Hasbro acquiring Mattel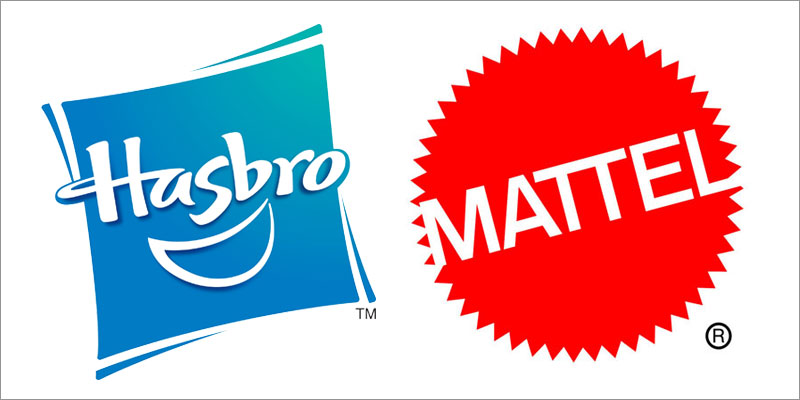 Last Friday, the Wall Street Journal broke the news that Hasbro had made an offer to buy Mattel, according to 'people familiar with the matter'.
'The terms of any possible deal couldn't be learned, and the approach may go nowhere,' it added, and this is not the first time such a merger has been rumoured (Hasbro is said to have approached Mattel back in 1996 and again in 2015).
Today (November 16th), Reuters' sources have claimed Mattel has informed Hasbro its proposal undervalues the company and does not take sufficiently into account the potential for regulators to reject the deal based on antitrust concerns, leaving the future of any potential acquisition unknown.
We asked figures from the toy and game design community whether they thought a deal could actually materialise, and if so, would it be a good thing for designers.
"I don't believe this will actually happen", Steve Perrin, senior VP of design and production at Seven Towns, told us.
"If it did, it would be bad for everyone, including Hasbro in the long run, which is exactly why it is unlikely to happen. Without a nemesis, you can't be a superhero – both companies currently compete on this basis driving them both forward. Retailers both traditional and new, entertainment rights holders and broadcasters all need Hasbro and Mattel to be competing suppliers."
However, Richard Heayes – founder of Heayes Design and former global design director of family games at Hasbro – believes that while there could be an upside for smaller firms and freelance inventors if the deal goes ahead.
Heayes stated: "No-one, especially buyers, want just a few mega players in any market who can then dictate the agenda. However, it does allow for smaller companies to come up through the ranks who can offer innovative products and solutions as the bigger players try to aggressively manage their portfolios.
"As an inventor, working with these smaller companies can lead to fruitful long-term relationships. They tend to make quicker decisions and are faster to market. Personally, I'm not sure this deal will go through but at the end of the day, change is part of what designers deal with on daily basis so I'm not that worried. Although, as the merger could be known as HASMAT, it does hint of some hazardous time ahead!"
It's a sentiment shared by David McDonald, vice president of design, product development and the global advanced concept team at Spin Master. He believes any deal between the two will shake-up the industry in a positive way, leading to greater opportunities for smaller firms.
"This business is all about change and newness; change in this business is good and stimulates new ways of looking at things and stimulating creativity," said McDonald.
"With the Toys R Us news, LEGO's downturn, online sales taking a greater chunk out of retail and now Hasbro possibly taking over Mattel, the toy landscape is changing in a big way. All this change shakes up the business and brings in new ways of thinking along with how we do business and compete. I believe all this chaos makes for exciting times ahead with great opportunities.
"Years ago, Mattel and Hasbro were the innovators, fresh thinkers and brand creators. I remember when Hot Wheels first came out; it was shaking up the business by going up against Matchbox with a different take on die cast cars that were all about style and speed. In the Eighties, when I worked at Hasbro, it was a much smaller, innovative company. Hasbro and Mattel have evolved into brand maintainers, not new brand creators. Over time, they have become the P&G of the toy business. This creates new and fresh opportunities for smaller companies to focus on creativity and innovation and become the brand creators for the future."
Wishing to remain anonymous, one designer also told us: "It's not the most shocking news but the impact of the sale will reach far and wide for many years to come. The proposed takeover, along with Toys R Us' bankruptcy will certainly mark 2017 as the most tumultuous year in the history of the toy industry."
Another designer, also speaking anonymously, believes the deal would be a lose-lose situation for all involved, added: "I was fairly new at Mattel Games when John Amerman first attempted to buy Hasbro – now the tables have turned. Either way, it's not a good feeling, thinking your new career is on the line.
"The loss of the competition between the two biggest companies would be a real shame for the whole industry. I can't see how losing a design, R&D or inventor relations team would be of benefit to any community, apart from shareholders."
Seven Towns' Steve Perrin also believes a takeover would go the way of several other acquisitions, in robbing Mattel of its identity, stating: "There has never been a takeover in the toy industry where the sum of the parts becomes greater. Both companies have made many acquisitions over the years and in almost every case, the acquired company is quickly absorbed to the point it no longer exists. Where is Tiger Electronics? Where is Cranium, Inc? Where is Radica Games?
"If this happened, it will not make Hasbro more powerful. Hasbro already has all the power and money it needs to wrestle the biggest licences from its biggest competitors. It will only drive opportunity to others and Spin Master, MGA and Moose must be watching with a keen eye to fill the gap. As for how it affects designers and inventors, it will also be negative. The opportunity to sell ideas to a new combined company will no doubt be less than when they were separate."