Wow! Stuff joins Mojo Pitch 2020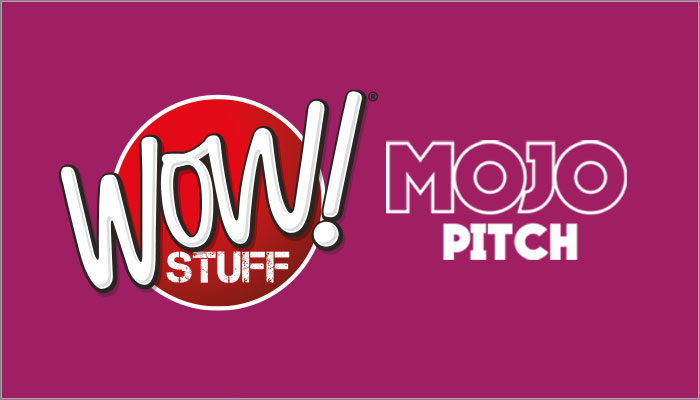 Toy and game inventors will be able to pitch concepts to Wow! Stuff at this year's Mojo Pitch event.
Forming part of the Play Creators Festival, the three-day Mojo Pitch will take place virtually this year, hosted at a dedicated Mojo Pitch platform from Tuesday September 8th to Thursday September 10th.
The event will welcome toy and game designers (both seasoned professionals and talented amateurs), invention houses and design agencies from across the world as they pitch exciting new toy and game concepts to a range of companies, each on the lookout for new products.
It was only very recently that Wow! Stuff, known for their prolific in-house scientists at the core of their New Product Development team, turned to the inventor community to drive their toy innovation to new heights.
"We are returning to the Mojo Pitch this year as it was so fruitful for us last year," said Wow! Stuff's Head of Inventor Relations, Dr. Jim Wyatt.
"We loved it and I hope the inventors got a lot of useful feedback too. This last year we have worked with more inventors than the previous 10 years combined. We want to continue to grow and strengthen our inventor base and be a first port of call for inventors who love the big licensed brands as much as we do; and not just the traditional blockbuster movie brands, but also those streamed on SVOD.
"It is the greatest thrill to work with creators that bring us exciting and innovative toys that are on brand and in universe. We love toy innovation that takes kids into the universe of the movies and shows they love. Toy innovation and bringing 'WOW!' to kids and families is our passion and it's why we win so many awards for the stuff we bring to market. If you're an inventor reading this please visit our website to get a flavour of who we are and the brands we work with, and please do book a slot at Mojo Pitch with us!"
Richard North, CEO of Wow! Stuff, added: "For those who've not met Jim, he's pretty unmistakable with his tall of stature frame topped with a mohawk! Jim's background was as an inventor himself before we acquired his company some years ago. He loves talking to inventors, working with inventors and seeing how together Wow! Stuff and an inventor idea can make a formidable partnership.
"The rewards for inventors can be stellar too. We can surpass sales of even the biggest toy companies on the planet as it's not all about being one of thousands of toys from a top three toy company; with us you're one of a few carefully selected and curated innovations that we feel madly passionate about. And we love winning awards with your toys and will be honouring these inventors who help us do that! Whoops, that's my pitch to inventors just done!"
If you're a designer, inventor or design agency that would like book in a meeting with Wow! Stuff and other companies attending this year's virtual Mojo Pitch, email Mojo's Billy Langsworthy on billy@mojo-nation.com
If you're a company that would like to join Wow! Stuff in meeting with designers and inventors at this year's virtual event, email Adam Butler at adam@mojo-nation.com
For more details on the wider Play Creators Festival, head to: www.playcreatorsfestival.com
—-
To stay in the loop with the latest news, interviews and features from the world of toy and game design, sign up to our weekly newsletter here