Wynne-Jones IP returns as headline sponsor for 2019 edition of Mojo Nation 100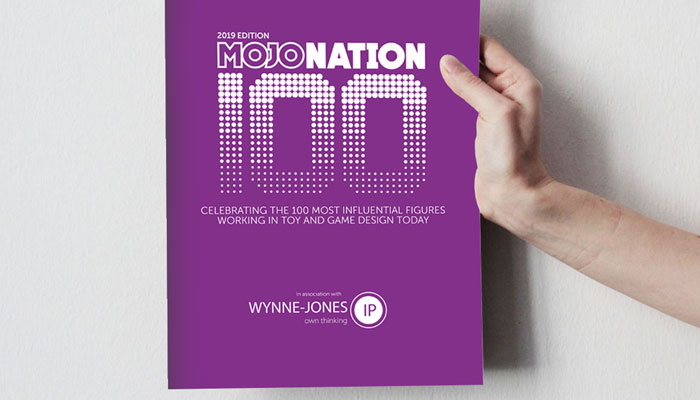 Wynne-Jones IP, a leading firm of intellectual property, patent and trade mark attorneys, has signed as the headline sponsor of the 2019 edition of the Mojo Nation 100.
The Mojo Nation 100 in association with Wynne-Jones IP is a listing of the most influential figures currently working in the world of toy and game design across five categories: Rising Stars, Research & Development, Design Agencies, Freelance and Design Champions, and the IP firm are delighted to be headlining the book for the second year running.
"Wynne-Jones IP is delighted to be once again supporting the Mojo Nation 100, which champions design creativity and innovation in the toy and game industries," said Victor Caddy, trade mark attorney and partner at Wynne-Jones IP.
"The Mojo Nation 100 is an exciting opportunity for us to support the worthy individuals and companies who have taken a toy or game idea and made it happen and we look forward to seeing the movers and shakers in the 2019 edition.
Billy Langsworthy, founder of Mojo Nation, commented: "We're delighted to have Wynne-Jones IP back on board for the 2019 edition of Mojo Nation 100.
"We were delighted with how well the inaugural publication was received. Wynne-Jones IP are passionate about helping individual designers, design agencies as well as R&D teams in this industry protect their creations, and it's great to have them involved again."
Caddy added: "Last year's first Mojo Nation 100 was welcomed by so many and really made a difference to those nominated, knowing their hard efforts had been recognised. Good luck to all this year's entrants and we look forward to learning of the 2019 finalists during the upcoming Toy Fair season."
The Mojo Nation 100 in association with Wynne-Jones IP will launch at UK Toy Fair, and be available from the Mojo Nation stand at GH48. It will also be available to pick up at the Toy Inventors Dinner, Spielwarenmesse and US Toy Fair.